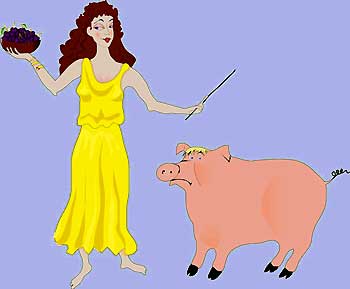 Circe ranks as one of the greatest witches from all story-telling. A beautiful enchantress, she likes nothing better than to turn men into pigs. (Some have seen her as a bit of a feminist). It is only when the wily Odysseus lands on her island that she finally meets her match.
(Many thanks to Helen Forte for permission to use her fabulous picture of Circe.)
One of our Greek Myths in the Trojan War series. As you may recall, Odysseus was on his way home from the war. He survived a nasty brush with a one eyed giant, the Cyclops, but not all of his men were so lucky. The Sea God Poseidon was angry with him, and destroyed all his ships except the one he was sailing in.
Read by Natasha. Duration 17 minutes دانلود در ادامه مطلب